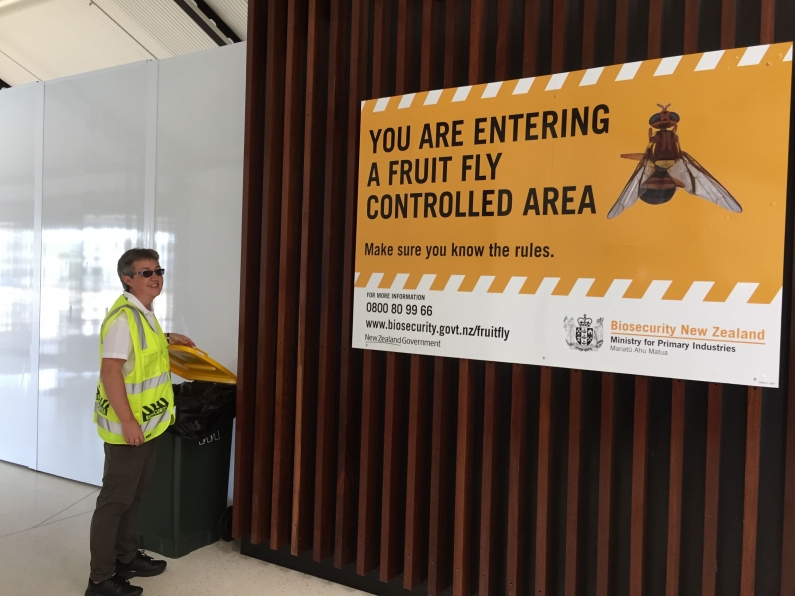 Controls on the movement of fruit and vegetables in Northcote have been lifted, with no further Queensland fruit flies being detected. The decision follows weeks' of intensive trapping and inspections of hundreds of kilograms of fruit. 
The last Queensland fruit fly detection in Northcote was on 14 March which led to an increase in the on-the-ground operational response. Biosecurity New Zealand teams on the ground removed fallen fruit from backyards, inspected compost bins, and placed bait on fruit trees to attract and kill adult flies, in particular females. 
'With no further finds, we are confident that there are no breeding populations of Queensland fruit fly in the Northcote area, and because of that, the Controlled Area Notices can be lifted today,' said head of Biosecurity New Zealand Roger Smith. 
'All operational activities, including baiting, have been completed, however, as a precautionary measure, we will be keeping in place an enhanced network of fruit fly traps for an extended period. If fruit flies are present, these traps will detect them.'
The Biosecurity New Zealand signage and wheelie bins will be removed from Northcote over the next few days. The lifting of legal controls follows similar moves on 22 March in Devonport (Queensland fruit fly) and in Ōtara (facialis fruit fly), after no further fruit flies were found in those areas. Biosecurity New Zealand and the country's horticultural industries would like to sincerely thank the residents and businesses in all of the affected suburbs. 
'Residents in the affected areas of Northcote, Devonport and Ōtara have been incredibly supportive and patient with not only the movement restrictions, but also the regular checking of traps on fruiting plants in their gardens and we're extremely grateful for the support,' said Mr Smith.
As a member of the Fruit Fly Council – a governance group made up of affected industry sector representatives under the Government Industry Agreement (GIA) partnership –Summerfruit NZ works alongside Biosecurity New Zealand in these types of responses. We are involved in response decision-making processes ensuring the interests of the summerfruit industry are represented and we will keep growers updated on new developments. 
For more information on this response click here. For more information on the Queensland fruit fly, check out our fact sheet here or watch Queensland fruit fly in your garden to see its life cycle and how Queensland fruit fly can affect home gardens.
Inset photo: Summerfruit NZ's Juan Rosales checks traps in Auckland 
Main photo: Summerfruit NZ's Andrea Crawford checking wheelie bins in Auckland.