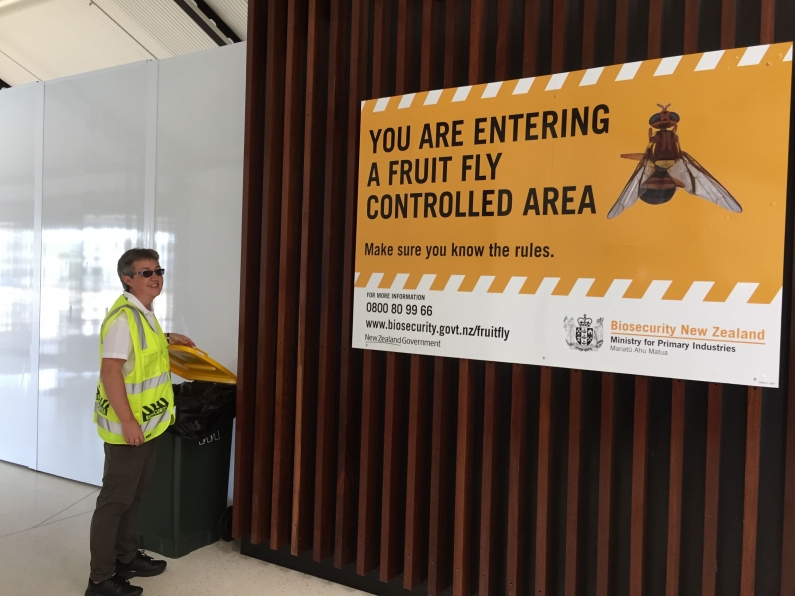 Controls on the movement of fruit and vegetables in the Auckland suburbs of Devonport and Otara are being lifted after no further fruit flies have been found there.
The decision follows several weeks of intensive trapping and inspections of hundreds of kilos of fruit leading to the conclusion that there are no breeding populations of Queensland fruit fly in the Devonport area, or facialis fruit fly in Otara.
Since the discovery of a single male Queensland fruit fly in a surveillance trap on 14 February in Devonport, there have been no further finds in Devonport.
In Otara, after a male facialis fruit fly was found on 18 February, there were two additional flies found on 21 February and 5 March in separate response surveillance traps nearby where the first detection was.
'To date no further adult fruit flies, eggs, larvae or pupae have been found,' says Biosecurity New Zealand spokesperson Dr Cath Duthie.
'We are satisfied that with no further detections, the Controlled Area Notices can be lifted today.'
'As a precautionary measure, we will be keeping in place an enhanced network of fruit fly traps in Devonport and between Devonport and Northcote, as well as in Otara, for an extended period. If fruit flies are present, these traps will detect them.'
The Biosecurity New Zealand signage and wheelie bins will be removed from the two suburbs over the next few days.
Biosecurity New Zealand, Summerfruit NZ and the country's horticultural industries would like to thank the residents and businesses in the affected suburbs of Devonport and Otara for their support.
The restrictions in place on the movement of fruit and vegetables and the current baiting programme in controlled zones in the North Shore suburb of Northcote remain in place.
Detailed maps of the controlled areas and a full description of the boundaries, and full information about the rules can be found on the Biosecurity New Zealand website here.
As a member of the Fruit Fly Council, Summerfruit NZ is actively participating in the response efforts in Auckland and working in close collaboration with MPI and other potentially affected industries to effectively respond to this biosecurity threat.
Our specific commitments set out under the Fruit Fly Operational Agreement include arrangements to participate in the decision-making, resourcing and operations required during a fruit fly response. Currently, we are taking part in the response governance meetings in Wellington and Summerfruit NZ's Juan Rosales (pictured above), and Andrea Crawford have been in Auckland helping with the response efforts. 
The most likely way that fruit flies can arrive in New Zealand is in fresh fruit and vegetables. Be vigilant and keep watch. While it may be possible to find on fruit trees if present, a better option is to look out for any larvae in fruit, including tree fallen fruit. Report anything of concern to MPI's pest and disease hotline on 0800 80 99 66. 
For more information on Queensland fruit fly, check out our fact sheet here or watch Queensland fruit fly in your garden to see its life cycle and how Queensland fruit fly can affect home gardens.
Main photo: Summerfruit NZ's Andrea Crawford checking wheelie bins in Auckland.