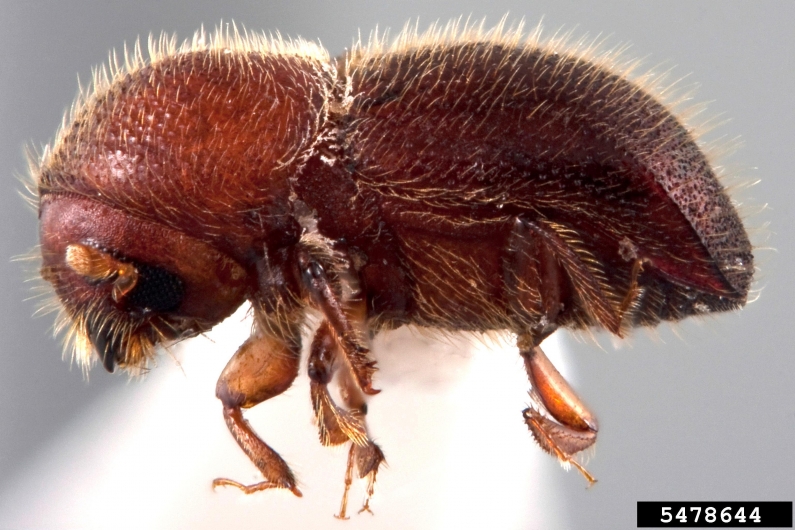 The granulate ambrosia beetle Xylosandrus crassiusculus – a new to New Zealand ambrosia beetle, has been found in Auckland during high risk site surveillance. It was initially found in the trunk of an oak tree in the Blockhouse Bay Reserve, but it is now understood to have spread to other areas north of Auckland, such as Kumeu and Riverhead.
Although MPI is investigating the spread of this new pest, we encourage you to look for this pest in your orchard, particularly in stressed or sick trees on summerfruit and ornamental trees. If you believe you have found this beetle, call MPI's pest and disease hotline 0800 80 99 66.
Given the fact that it has been recorded on more than 100 species in over 40 plant families, it is difficult to distinguish favoured hosts. Hardwoods appear to be preferred hosts, but any broadleaved tree or sapling may be attacked. It is known to attack common tree species such as oak, ficus, eucalyptus, magnolia, acacia and casuarina, but also common fruit trees such as avocado, plum, peach, persimmon, and pear. It does not seem to infest conifers.
In living trees, the action of female beetles boring in wood and introducing fungus can cause a decline in tree health. An infestation can cause wilting and dieback of the tree, and may even cause death of nursery plants, saplings and trees. It has been reported as a pest of nursery stock and young trees.
For detailed information on the granulate ambrosia beetle and its behaviour, please click here.